I was updating this part of our website for the first time since 2004, and every single link to a review except the Punknews.org review of R. Borlax was broken. That means that every website that interviewed us or reviewed us in the last 6 years failed. Hahahahaha. Except SanMarcosHardcore.com, that became a porn site.
COOL VIDZ

Lord Gold Throneroom, Home Club, Singapore, EARTH TOUR, 2008


48 Hours in Ukraine DVD Preview
DVD available here internationally.


A Natural Death Studio Journals 1-9
These are fucking famous. They contain the popular TV series "Lawrence & Friends" which was tragically never concluded.


Heroes Die/Birdo, Tochka, Moscow, EARTH TOUR, 2008


Birdo, The Darkroom, Baton Rouge,
Audience collapses at end


New York City, Seoul, South Korea, EARTH TOUR, 2008
Something about the sound quality in this video and the passion of our performance while remembering it was to a room with 40 people in it in South Korea is particularly emotionally devastating. You will probably get chills/possibly cry at the end.


The Red Tornado & Purple, Kuala Lumpur, Malaysia, EARTH TOUR, 2008
Playing in our underwear in a 150 degree oven room on a borrowed keyboard that gets knocked over. Dash's bass cuts out during his lil solo. hahahahaa


New York City, New York City, BTBAM Tour, 2007
On Halloween as Disney Princesses!


Motel 6 Extended Stay, Mountlake Terrace, Seattle, 2005
Accidentally flooded our hotel. $5000


FULL SHOW: Pittsburgh, The Spyder Lounge (RIP), The Effing 69 Tour, 2004
Part 1 of 7
The show probably has the best banter of all time. This was when we were still young.


COOL CUTSMAN VID CONTEST
Which city is best?!?!?!?!?!?!?!?!


The Masquerade, Atlanta, 2009 with cool lights and amazing sound?


Emo's, Austin, 2009 w/ Erik beating up fan?


Groezrock, Meerhout, Belgium, 2008 w/ Jon Karel Gnarly Drum Solo?


Conne Island, Leipzig, Germany, 2009 w/ Nathan pulling a German boy's pants down?


Warped Tour, New Jersey, 2006 w/ proof that we don't draw anyone so we can't play it again?


MOD, Belgium, 2009 w/ IWABO guest headbanging?


The Purple Turtle, London, UK, 2009 w/ sweet clothes, multi camera angles, crazy British?


Peniche Alternat, Paris, France, 2004 w/ this show was on a boat in the river


MUSIC VIDEOS

Shapeshift, Desperate Living, by Daniel Chesnut


Murder, A Natural Death, by Gary Lachance


New York City, A Natural Death, by Roboshobo


Lord Gold Throneroom, THEMECHANICALHAND, by Darren Doane


Birdo, THEMECHANICALHAND, by Darren Doane


A Million Exploding Suns, THEMECHANICALHAND, by Gary Lachance


INTERVIEWS

David, Erik, Nathan, Ed Edge, Saints and Sinners Fest, New Jersey, 2008


David & Erik, Slovenia, EARTH TOUR 2008


David & Nathan, Berlin, 2009


Erik, Jimmy Alter TV, Haarlem, Netherlands, 2008


Nathan Interviews HORSE the band, Metal Injection, New Jersey, 2006


HORSE hits rock bottom, Metal Injection, New York City, 2007


Erik, Daniel and David Isen on Belarussian TV, Minsk, Belarus, 2009

Calibreed - Erik on Africa amd Desperate Living
For the Sound - David on Desperate Living
The Gauntlet - Erik on Desperate Living
FHM with Shallon Lester - Nathan and Erik
Revolt Media - David on almost dying in Russia
Indiependent Music - Erik on Earth Tour in Singapore
The Dreaded Press - Erik on A Natural Death
Lambgoat - Erik being a dick

PODCASTS:
Sound Scene Revolution - On the departure of Eli, China, water, Dragonforce.
Ryan's Rock Show - Good EARTH TOUR Stories


COOL PICS
EARTH TOUR PICS - coming soon
PICTURES ON MYSPACE
PICTURES ON FACEBOOK

OLD SHIT:

| | |
| --- | --- |
| | CHE CAFE - April 10th, 2005. Dash is now visible in these pictures at the luxurious Che Cafe in do it yourself La Jolla Country Club Village, California. |
| | TUJUNGA MOSAIC CAFE - October 26, 2003. This is the infamous Halloween Show guest starring Martina Navratilova on her period, Jesus, Retarded Superman, and Pandy-s. And Fake Nose and Moustache for one song. |
| | TOUR JOURNAL 2003 - HAHAHA THIS IS SO FUNYY OHHH HAHAHahAHaha. It also has good pictures from many different cities and us wearing different outfits. |
| | BURBANK VET'S HALL - August 9, 2003. The Good Old Days with Bleeding Kansas :_( |
| | REALLY OLD PICTURES - These are very funny. |
DISCOGRAPHY

I Am a Small Wooden Statue on a Patch of Crabgrass Next to a Dried Up Riverbed - In Summer 2001 we recorded a 5 song demo at Love Juice in Riverside. There are like 6 designs floating around. Notable ones are something like 250 Hammer demos, 20 Bunt demos (fat girl's fatness taking up whole cover), various demos with pictures drawn on them with markers and crayons. Lots of people got these for free on the Internet for like a month. This is gone, I don't even have one. Sometimes this is referred to as "The Hammer Demo" or "The Bunt Demo".

Self-titled 3" CD - We made 200 of these fucking cool bad boys. They are hand-numbered. If you have one you are happy. They are so cute and disturbing. This was to promote for a show we played with Coalesce. OOOOO!!! This is our most killer release so far, and it is gone.

America's Hardcore - A 4 way split on Goodlife Recordings from Belgium. One day someone called me from Belgium and said they wanted to put us on a CD. This was the turning point of HORSE the band. I almost died. In retrospect, this comp is fucking horrible. I remember early in our band days we were continuously worried that Waking Kills the Dream would get bigger than us. Beautiful Songs by Men - Our Summer Tour demo for 2002. 4 songs off the old demo and two other ones we recorded for no reason. Beautiful art and beautiful music. There were 200 of these too I think, we sold out of them halfway through our tour. It came in a white sleeve with one of those see-through plastic holes with hot pink art with a drawing in paintbrush of a half turtle half cat looking at the camera.

Split 7" with Bleeding Kansas - Note: This does not exist. Bleeding Kansas is so fucking good. They are the best band in Los Angeles. That is why we are making this 7" with them, cause we are friends and we are in love. It contains an exclusive HORSE song and 2 exclusive, for now, Bleeding Kansas songs. Art by James Quigley.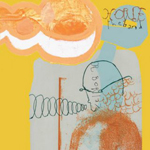 R. Borlax - The critically-adored-and-fawned-over debut breakout explosive pulverizing full length featuring the hit singles "Cutsman" and, oh wait, that's the only song anyone knows. But not YOU, right? Good. You are better than them. We paid for it, we recorded it in 5 days, we sent it to 100 labels, we bothered Pluto Records to release it on AIM. Art by Nick Butcher.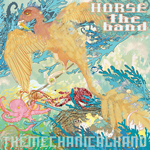 THEMECHANICALHAND - Perhaps many idiots' favorite release, THEMECHANICALHAND really cemented our status as some band that plays about Nintendo or something. Named after the Mexican syndicate that kidnapped the Kangarooster and ransomed him. Recorded in Seattle over 3 weeks at the cost of (recording budget) plus $5000 for flooding our hotel. Matt Bayles produced this, we were big time. Art by Pony Girl.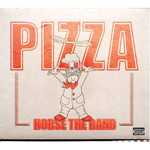 PIZZA EP (CD) - We needed to drop off this horrible tour we were on and needed a good excuse so we drove home and wrote and EP about Lou Malnati's Pizza as well as other pizza-themed songs in one week and then recorded it in 2 and a half days with Dan Chase in Santa Monica. Marketing Geniuses "Koch Records" printed it upside down and backwards and put a full panel ad for The Mechanical Hand over our artwork without telling us. Revenue from the Mechanical Hand skyrocketed as a result of the geniuses at Koch. Eli's last stand.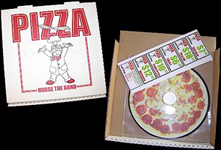 PIZZA 10" PICTURE DISC IN REAL PIZZA BOXHaaaahahahahaha this is the coolest thing we ever made. 550 ever. They are gone you dummy.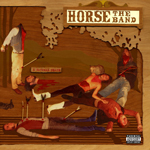 A NATURAL DEATH - Feeling weird about releasing an album about pizza and also feelin a little sad and overwhelmed by philosophical issues we wrote what proved to be our moodiest, most serious, and most "cinematic" album. Unfortunately we later worked our way through the issues rendering this album an embarassing reminder yet important touchstone for the time of our lives when we wanted to feel something but actually felt absolutely nothing besides a vague want to feel something and trying to express emotion through tired movie-soundtrack type composition. Baby Horse played drums, Brian Virtue recorded it in LA, and Billy Goat did the wood carving/painting artwork.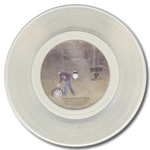 Shapeshift 7"Contains Shapeshift and Skrillex's remix. Still available. Loathing everything having to do with touring the US with "other bands", "promoters", and "booking agents" and feeling very bored and nostalgic for the good old days, we left and saw the world. Came back with ideas and a treasure chest full of inspiration. Decided we were finally ready to write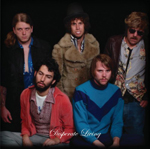 Desperate Living - Inspired by the John Waters movie and living at the top when you're at the fucking bottom. Clearly our best album. Produced, Engineered, Mixed by the FUCKING MASTER Noah Shain in West Hollywood and Hollywood for siiiiix weeks biiitch. Artwork by us, and you should look at it. Guest piano by the world famous Valentina Lisitsa. Guest vocals and production by Jamie Stewart of Xiu Xiu. That's all!
I agree with that author that
replica watches uk
would have been a nice touch, and I also suggest that if a few of the bridges were black ruthenium finished
replica watches uk
would add a perfectly complementary facet to the presentation. Operation and ratings are maybe not ideal, but certainly without concern. It is a classic caliber and watch attempt after all. The
rolex replica uk
store function makes use of a blued central second hand with red tip and rolex watches arrow counterweight. Vintage is very much in vogue right now, and many brands are releasing watches in deliberately antiquated styles to attract the growing consumer base of all things retro. Generally speaking, these
replica watches
are simply redesigns of existing products, using the same modern movements and dial
rolex replica sale
as the rest of the brand is catalog. Elements like faux patina, gilding, and distressed leather are then added to achieve an old world
rolex replica uk
.